We would like to congratulate Tavara Johnson on winning the 2017 Elizabeth K. Weisburger Scholarship. Ms. Johnson has been a resident of Housing Up's Faircliff Plaza East property for the past ten years along with her daughter Kimora, 11. She has long desired to become certified as a phlebotomist, however, Ms. Johnson has struggled with the balance of financing her education while also meeting the needs of her family.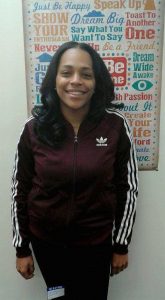 The Dr. Elizabeth Kreiser Weisburger Scholarship is awarded to a client of a Lutheran Social Ministry affiliated organization, and was established to recognize applicants who demonstrate the ability to achieve in the face of adversity. Ms. Johnson became homeless at the age of 16, and spent a few years moving from home to home until finding stable housing with Housing Up at age 20. An active participant in Housing Up's resident services program, Ms. Johnson learned of the scholarship through Housing Up's Family Success Program (FSP). The Family Success Program empowers low-income, formerly homeless families to break the cycle of poverty permanently, through increased access to education, workforce development, and community and supportive services.
Thanks to the scholarship, Ms. Johnson has been able to fund her education and return to school. Ms. Johnson is now nationally certified as a phlebotomist, and has recently enrolled in Trinity University to attain a BS in Nursing. Her ultimate goal is to become a neonatal nurse.
With the help of the Weisburger scholarship and FSP, Ms. Johnson has revised her resume and developed a professional presence, and has taken those skills to apply and accept a position at George Washington Hospital as a phlebotomist technician. She is a shining example of perseverance and epitomizes the potential we see in all our families. Congratulations to Tavara Johnson; we wish you the best.