LIVING IN THE CITY 2017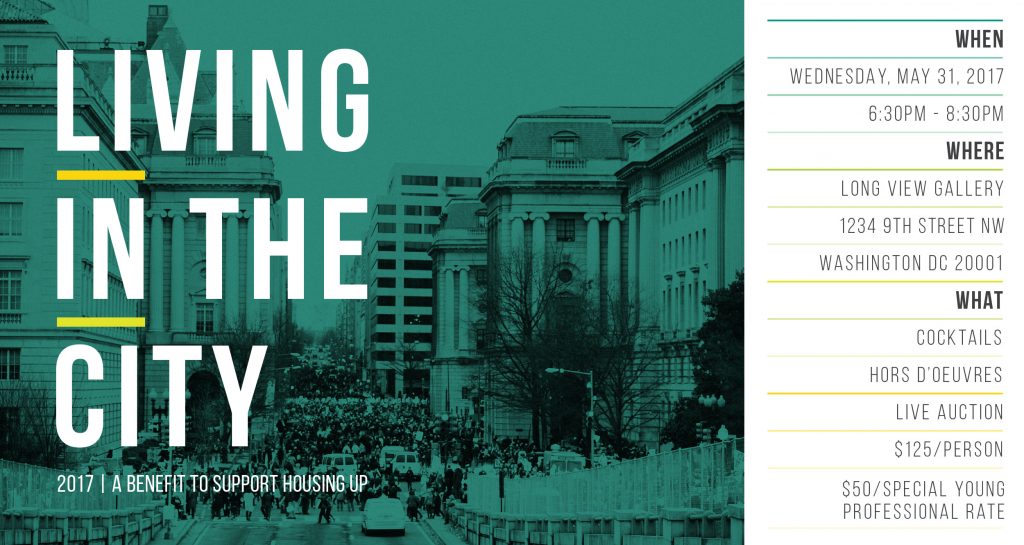 We are thrilled to announce that planning is underway for Housing Up's annual Living in the City benefit. Our most important event of the year, Living in the City brings together our loyal supporters, dedicated volunteers and passionate staff to celebrate the accomplishments of our families.
Living in the City 2017 will take place at Long View Gallery (1234 9th Street, NW) on Wednesday, May 31, 2017 from 6:30 to 8:30 p.m. It is our biggest fundraising event, and we hope you'll play a key role in the work that we do: helping our District's most vulnerable families create stable homes and brighter futures.
Providing homes to families in our city is more necessary than ever. The District of Columbia continues to see a surge in the number of families seeking housing and services. HUD's 2016 Annual Report found a 34% increase in the number of families experiencing homelessness in DC last year – the largest percentage increase in the country.
In the face of that daunting reality, we've redoubled our commitment to end family homelessness, and we hope you'll do the same. We believe that only together, with support from District and federal governments, community partners and you, can we ensure that every family finds a safe home.
If you are interested in being a Living in the City sponsor, please click here to view the available opportunities and send the downloadable sponsor form to Christina Peay at cpeay@housingup.org.
To purchase tickets, please click here or the button below.