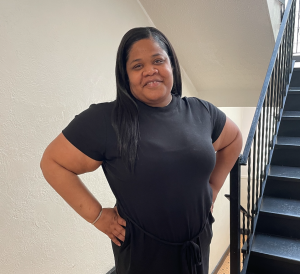 As the end of the year quickly approaches, we want to thank you for your amazing support in 2022. Your generosity has helped us continue to provide critical housing and services to more than 900 families during another difficult year.
In recognition of the continuing need for Housing Up's mission, we are launching our 2022 End of Year Campaign, with the goal of raising $70,000 by the end of the year. We know this has been a difficult year for many in our community and we do not make our ask lightly. In 2021, we raised nearly $56,000 – can you help us achieve this new goal? Every dollar you contribute makes a difference.
Your belief in our mission helps families like Ms. Tanica Hunter and her family. Ms. Hunter joined Housing Up in 2008 and was a resident of Partner Arms 2 for just over two years before moving to our Fort View apartments in 2011. Since being connected with Housing Up, Ms. Hunter & her family's lives have changed in more ways than she can count.
"I'm proud [of myself] because I now see a better picture for my family," Ms. Hunter said. "A lot of doors have opened for me, and my kids are happy and satisfied."
Since moving into Fort View Apartments 11 years ago and with Resident Services' assistance, Ms. Hunter completed her nursing school prerequisites at the University of the District of Columbia (UDC) and is waiting to hear if she's been accepted into UDC's Nursing Program. Her educational advancement will allow her growth in the medical field where she has over 10 years of experience as a Certified Nursing Assistant (CNA). Ms. Hunter's story is possible because of you.
The 2022 DC Point-in-Time count, which took place in January before the full impact of the end of the pandemic's eviction moratorium could be seen, totaled 3,403 people in 347 homeless families, including 594 children. As we continue to uncover the aftermath of COVID-19, and as economic challenges continue to mount, we know the need for safe, affordable housing and homeless services will only grow.
We need your support to continue creating opportunities for families that need it most. Visit our website to make your donation today.
---