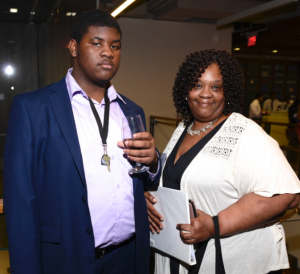 As the end of the year quickly approaches, we want to thank you for your amazing support. Your generosity has helped us continue to provide critical housing and services to close to 900 families during another difficult year.
In recognition of the continuing need for Housing Up's mission, we are launching our 2021 End of Year Campaign, with the goal of raising $70,000 by the end of the year. We know this has been a difficult year for many in our community and we do not make our ask lightly. Every dollar you contribute makes a difference.
Your belief in our mission helps families like Ms. Felicia Holmes and her son. Ms. Holmes struggles with mental illness and when she became homeless, it became very difficult for her to take care of herself. Because of your support, Ms. Holmes was the first resident to move into Weinberg Commons in 2015.
"My life has been up and down, a rollercoaster, but since I've been at Weinberg, it's just been going up," Ms. Holmes said. "I never, ever thought I would be crying tears of joy."
Since moving into Weinberg Commons six years ago, Ms. Holmes has created the Weinberg Peer Support Group, which meets regularly over Zoom to share resources and discuss ways to work through issues around parenting or relationships that will lead to personal, familial, or community improvement. In addition, she is creating Felicia's Fun Fridays to provide an artistic outlet for youth in the community. Ms. Holmes's story is possible because of you.
The 2021 DC Point-in-Time count, which took place in January, totaled 3,871 people in 405 homeless families, including 746 children. As we just begin to uncover the aftermath of COVID-19, and as the pandemic is still adding financial stress on families, we know the need for safe, affordable housing and homeless services will only grow. 
We need your support to continue creating opportunities for families that need it most. Visit our website to make your donation today. 
---