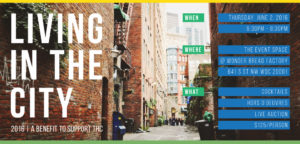 We are thrilled to announce that planning is underway for THC's annual Living in the City benefit, presented by Somerset Development. Our favorite event of the year, Living in the City brings together our loyal supporters, dedicated volunteers and passionate staff to celebrate the accomplishments of our families.
Living in the City 2016 will take place at The Event Space at Wonder Bread Factory (641 S Street, NW) on Thursday, June 2, 2016 from 6:30 to 8:30 p.m. It is our most important fundraising event, and we hope you'll play a key role in the work that we do – helping our District's most vulnerable families build homes and bright futures.
Last year's event marked a milestone for us: our 25th year of housing families experiencing homelessness. This year, we will celebrate another significant moment in our organizational history – a new name and brand identity for THC. We hope to see you on June 2nd as we raise a toast to our new name and 25 more years of success!
To purchase tickets, follow the donate link below.

If you are interested in being a Living in the City sponsor, please view the available opportunities and send the downloadable sponsor form to Corey Whisman at cwhisman@thcdc.org. Visit our sponsor page for a list of current sponsors.