Introducing Emily Koppel! 
We'll periodically introduce you to new additions to our dynamic Housing Up staff. First up is Emily Koppel, our new Manager of Volunteers and Community Engagement.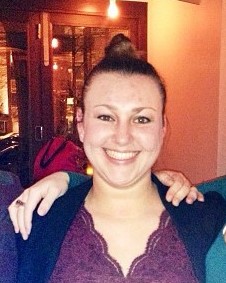 Tell me a little about yourself.
I grew up in Huntington Beach, California, aka Surf City USA. However, I'm probably the only native who is afraid of the ocean and has never been surfing in their life. Thanks to my Southern California roots, I have a deep and abiding love for Mexican food and margaritas. Before joining the Housing Up team, I worked for J Street, an advocacy non-profit, and prior to that, I worked as a field organizer in Ohio on President Obama's re-election campaign. Other than that, the most important thing to know about me is that I am obsessed with Jarlsberg cheese, my book club, and watching – and analyzing the cultural significance of – what others might consider "trashy" television. I am always happy to discuss my love/ obsession of these things with anyone!
What interested you most about Housing Up?
Whenever people ask about my time as a field organizer, I always say that it was the most rewarding and grueling thing that I've ever done. The most rewarding part of the job was interacting with my volunteers -cultivating their leadership potential within their communities and working with them towards a common goal. When I was offered the Manager of Volunteer Programs and Community Engagement position, I was excited to combine my love/ skill set of engaging volunteers with working for an organization whose mission I so deeply believe in. I also see this job as a way for me to be more connected to, and give back to, the city that I have adopted as my own for the past three years.
What's your favorite thing to do in DC?
My absolute favorite way to spend a weekend day in DC is to spend the morning working/reading from Compass Coffee (I should probably be their spokesperson), then walking to Reformation Fitness to take a Pilates reformer class, and then stopping in at Buttercream Bakeshop on the way home to treat myself to a chocolate covered Oreo.
What are your goals for this year, both personally and professionally?
My personal goal for this year is to explore my neighborhood of Shaw more – I need to get out of my usual routine to check out all the new spots that are constantly popping up (All Purpose, Smoked and Stacked, and Kyirisan are all on my list). I'd also love to spend time traveling with friends throughout the US. Professionally, I hope to engage folks with Housing Up through meaningful volunteer opportunities, and for those opportunities to be positive for our clients.
---