Last week, we honored two of our rapid re-housing clients who were recently accepted to college. Our education and training coordinator, Crystal Stewart, worked with both clients throughout the past year to prepare them for testing, guide them through the application process and provide encouragement. Both clients, Sasha and Arlette, worked hard to overcome challenges and barriers to their education. They reflected on their experiences and what this major accomplishment meant to them: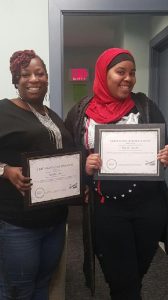 "I have three children to take care of and money does not grow on trees. Becoming a registered nurse is a profession that has guaranteed stability no matter where you go … With the help of my education coordinator Ms. Stewart I was notified of two scholarships that would cover the cost of school. I retrieved the application for both and applied. Within two weeks I received an email stating I was awarded both scholarships.
After all that was done my next task was to take my placement test. My end result of the test was not the scores I anticipated, [so] I then enrolled myself in community college preparatory academy to get my scores up. I am very determined to become a registered nurse and I will not stop until I walk across that stage upon completion of college." -Sasha
"I decided to make a difference. I am a single parent of five boys, [and] my youngest is in his last year of high school. I decided to begin to set some goals for myself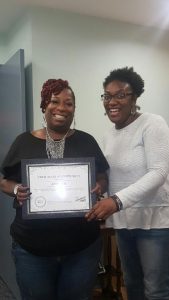 because my children are all grown up now and I needed to decide where I want my life to go. Now I have the time to go back to college because I want to be an example for my children, my friends, single parents in my community and most importantly [to develop] a career for myself. This decision was not easy but I thank Ms. Stewart for encouraging me to continue my education and to become self-sufficient. My journey has just started and I have a way to go and again I thank Miss Stewart so much for her encouragement and help when needed. Thank you for this opportunity to be able to share with you, and [hopefully] to encourage those who feel it's too late to set goals."
-Arlette
We are so proud of their hard work and persistence!
---