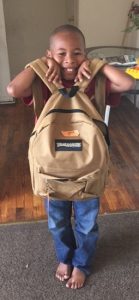 Now that school has officially started up again, we at Housing Up wanted to take this opportunity to recap our back to school drive. This year alone we were able to outfit almost 500 children with much needed backpacks and school supplies. Those numbers represent an increase of one hundred children provided for from last year! Thanks to the generosity of our community, we ensured that each child started school feeling prepared, excited, and ready to learn.
Backpacks and school supplies can be incredibly expensive, a reality that is magnified for families working to achieve housing and financial stability after experiencing homelessness. In a city where a family needs to earn $31.21/hour to afford a market rate, two-bedroom apartment, it is clear why too often children show up to school without proper school supplies. This can be detrimental to their learning, whereas getting started on the right foot sets a positive tone for the entire year. That's why a donation of a backpack and school supplies is such a critical investment in a child's education!
The success of this drive would not have been possible without the generosity of our supporters, especially the American Bankers Association, All Souls Memorial Episcopal Church DC, Gifts of Hope, St. Paul's Rock Creek Church, The Advisory Board, and Episcopal Church of the Redeemer, Bethesda.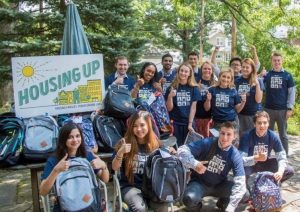 For more information on how to participate in Housing Up's next drive, which will be collecting presents for our families for the holidays- or other volunteer opportunities- please contact Emily Koppel, Manager of Volunteer Programs and Community Engagement, at [email protected].
---