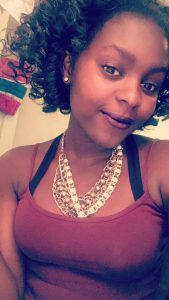 Housing Up is happy to congratulate Isabelle Diatta on winning the 2018 Elizabeth K. Weisburger scholarship. Diatta currently lives with her mother and two sisters at Fort View Apartments, one of our affordable housing properties. Isabelle has an 11-month old daughter.
The Dr. Elizabeth Kreiser Weisburger Scholarship is awarded to a client of a Lutheran Social Ministry affiliated organization, and was established to recognize applicants who demonstrate the ability to achieve in the face of adversity. This is the second consecutive year that a Housing Up client has received the Weisburger Scholarship; last year's recipient was Tavara Johnson.
Isabelle and her family immigrated to the United States from Senegal. Isabelle has participated in resident services activities throughout the years, and learned of the scholarship through her recent enrollment in the Family Success Program (FSP).
The Family Success Program empowers low-income, formerly homeless families to break the cycle of poverty permanently, through increased access to education, workforce development, and community and supportive services.
With the help of the Weisburger Scholarship and FSP, Isabelle is making her way through college, having recently completed her sophomore year. She is currently enrolled at Marymount University, working on a B.S. in psychology. Her focus and fortitude is to be admired by all of us. Congratulations to Isabelle, and we wish you the best!
---