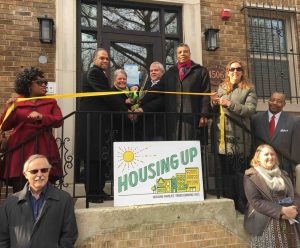 On December 14, Housing Up celebrated a ribbon cutting at our Partner Arms 2 (PA2) property. The building has undergone renovations for the past year and has now reopened just in time for the holidays. Constructed in 1924 and acquired by Housing Up in 2001, Partner Arms II has operated as transitional housing for formerly homeless families until the current renovation. With rehabilitation and structural remediation completed, Partner Arms II will now provide 12 units of permanent supportive housing (PSH) to formerly homeless families.
Renovations include weatherproofing the building envelope, structural remediation (helical piers), and replacement of outdated systems, equipment and exteriors (e.g., roofing, exterior doors, windows, etc.). We converted two one-bedroom units into a two-bedroom unit, to better accommodate families. New residents of Partner Arms II will experience upgrades such as new kitchen countertops, cabinets, and sinks, refreshed paint, as well as new bathroom accessories and hardware. Energy efficient lighting, HVAC equipment and appliances will also be installed. This renovation is compliant with Enterprise's Green Communities guidelines.
This important renovation would not be possible without assistance from our partners. We thank all our partners for their support of our work  and commitment to providing housing stability to District families.
Partner Arms II Development Team
Owner/Developer – Housing Up
Architect – Zavos Architecture + Design, LLC
M/E/P Engineer-  Capitol Engineering Group
Structural Engineer – SK & A
Civil Engineer – VIKA Capitol
General Contractor – Commercial Construction
Construction Manager – JDC Construction
Geotechnical Contractor – GEOFREEZE, Inc.
Green Building Verification – Pando Alliance
DHCD Project Manager – Ray Slade
Partner Arms II Financial Partners
Holy Trinity Catholic Church (Social Justice Grant)
TD Bank (Housing for Everyone Grant)
Corporation for Supportive Housing (Pre-development Loan)
Local Initiatives Support Corporation (Construction to Permanent Financing)
DC Department of Behavioral Health (Capital Grant)
DC Department of Housing and Community Development (Housing Production Trust Fund)
This is a proud moment for us at Housing Up, and moments like these are made possible by our supporters. Thank you so much.
---