Housing Up has recently conducted an interview series of our Board Members to shine a spotlight on why they joined Housing Up and support our mission, and what motivates them to do this kind of work. Read about Board Member Frank Demarais below.
What compelled you to serve as a member of Housing Up's Board of Directors?
A career in housing finance introduced me to the continuum of housing models but not the fundamentals of housing needs. A friend who served on the Board shared information about the work of local nonprofits providing service-enriched housing to transition families from homelessness to stable housing, and the opportunity to support that on a volunteer basis.  The challenges faced by direct service nonprofits need volunteer support in all areas of their activity, and Board participation connects me to those activities where my skills and knowledge can provide the most help.
What are your goals for the board, both this year and long term?
The Board, and the organization, need to continue the work underway to sustainably expand the infrastructure which supports program services staff to help them meet the needs of the clients served. The infrastructure for Affordable Housing development and asset management needs to continue to expand to match the opportunities presented by the development projects underway and the growing pipeline.
Sustainable funding from unrestricted sources, including philanthropic giving, service-based fees, and developer fees remains a priority for the Board and the organization.
Who has inspired you in your life and why?
I have the privilege to have grown up in a time and place where family, community and educational opportunities exposed me to many models where service was valued.  My extended family included many selfless examples, and the leadership of the civil rights, liberation, and human rights organizations offered examples of effective models.  Intellectually, valuing every life equally requires actions which reflect that fundamental truth, and positioning efforts to the highest and best use for the greatest good.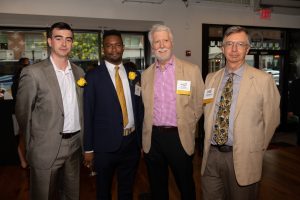 What is your vision for a DC with adequate housing, what does that look like to you? What motivates you?
Adequate housing involves the supply of housing where each individual or family has housing suited to their needs, and affordability/support to sustain that housing based on the person's capabilities.
I like the framing of Housing First as a policy focus.  Housing First is a phrase with multiple meanings, generally used to differentiate homeless services housing with no barriers to offering housing (sobriety, etc). Housing First also embodies a public policy prioritization, reflecting housing a person or family as a first-priority to address other barriers.  Housing stability and affordability supports family cohesion; community engagement; educational stability and attainment; employment stability; access to health care services and healthy living; reduced food insecurity;  and supports upward mobility capabilities.
The costs and energy of providing adequate affordable housing get offset with the value of increased economic productivity from educational and employment stability, reduced public sector expenses from health care, public safety, educational adjustments, social services, and other safety net programs.
My motivation includes supporting broader understanding and acceptance of the fundamentals of supporting affordable housing as a public good, and its effectiveness in addressing critical issues.
If you had an opportunity to convince someone why they should support organizations like Housing Up, what would you say?
Housing Up, and the other core providers in the District's Homeward Plan to end chronic homelessness, provide critical, effective services to the families experiencing homelessness.  These services represent structured, evidence-based approaches to assist families to move toward housing stability.  The goal of making homelessness rare, brief and nonrecurring represents an achievable system which requires steady progress, tireless effort to refine and adjust techniques, and the commitment of the community to stay the course.  Homelessness will continue to happen, and the community needs providers like Housing Up working to help families through these traumatic episodes.
Support for the organizations providing services to our most vulnerable neighbors relies on the private sector for the critical volunteers and funding which allows them to deliver the basic services funded by the government.  Each organization must independently raise funds for operating expenses, training, and enrichment services, without which the organization could not adequately serve clients.  The staff of direct service organizations struggle to manage the dynamics of supporting very challenged clients while developing the professional systems and changes demanded.  The organizations do the heavy lifting, and the community needs to work to support them to make continue the progress.
---