Housing Up's fall volunteering is in full swing! We kicked off the season with a service day at Partner Arms 2 thanks to GitHub, an international software developer. GitHub volunteers helped get PA2 ready for the winter by applying weather treatment to all of the fencing surrounding the building.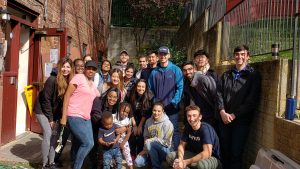 In October, Hope Multiplied, a Northern Virginia based service organization, threw a fall festival cookout for our families at Partner Arms 3. The day consisted of grilling burgers, painting pumpkins and decorating Halloween cookies.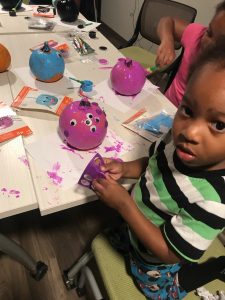 This month, we were lucky to host the Girl Scouts at both Partner Arms 3 and Fort View Apartments. Girl Scout leaders provided a 5 week enrichment program to girls at those buildings. Participants learned about a wide range of topics, from STEM skills and financial planning to self-improvement habits and conflict mediation.
We also started a new health and wellness initiative for our adult residents of Fort View Apartments with a monthly yoga class. We ended October with Halloween parties for the families at Partner Arms 2, Fort View and Webster Gardens.
Thanks to all of our volunteers! If you're interested in volunteering with Housing Up, please contact Dillon Ficca, our Manager of Volunteers and Community Engagement.
---