With the holiday season right around the corner, Housing Up has launched our annual gift drive! Each year, we work with our generous donors and local partners to provide gifts to more than 700 families. This year, we are also launching a toiletries drive for families that would prefer hygiene and personal items instead of gifts.
Interested in participating? You can get involved in a number of ways: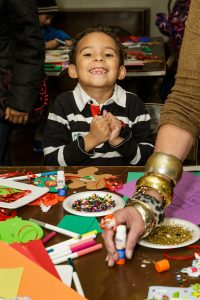 1. You can purchase gifts for our families via our Amazon gift registry: https://tinyurl.com/HUgiftdrive. A few small clicks and you've made a big difference for a family in need.
2. You can contribute to our toiletries drive. Some families would prefer gifts of personal hygiene items like shampoo, body wash and toothpaste. If you'd like to donate, please contact our Manager of Volunteers, Dillon Ficca.
3. You can make a monetary donation that will support purchasing gifts or toiletries. Click here to donate today.
4. If your job, church or community organization would like to arrange a gift drive, we'd love to help! Contact Dillon Ficca for more details.
We hope you'll help us provide holiday cheer to our families this year!
---