On Tuesday, December 3, 2019, Housing Up will celebrate #GivingTuesday, a global day dedicated to giving. Founded in 2012 as a philanthropic response to the widely promoted shopping days of Black Friday and Cyber Monday, #GivingTuesday is celebrated annually on the Tuesday following Thanksgiving, and has inspired giving globally, resulting in more donations, volunteer hours and activities to affect change in communities around the world.
#GivingTuesday harnesses the power of social media and the spirit of the giving season to celebrate and support giving and philanthropy worldwide. #GivingTuesday kicks off the charitable season, when many people focus on their holiday and end-of-year giving through contributions and acts of service.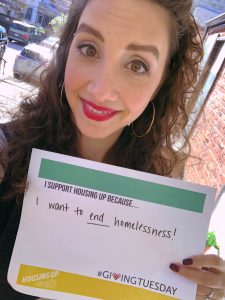 This #GivingTuesday, we're raising funds to support our youth tutoring program. Over a third of low-income students begin kindergarten unprepared for school, and half will be reading behind grade level by the fourth grade. Youth who experience residential instability tend to underperform academically and are more likely to drop out of high school when they get older. Our youth tutoring program gives kids resources to achieve their educational goals.
Your time, energy and financial support will greatly impact the 700 families we serve who depend on your generosity. On #GivingTuesday, your donation will give kids a head start on a bright future. Join the movement this year and give by making your secure, tax deductible donation to Housing Up and becoming a volunteer.
---