Living in the City 2020
See you (virtually) on October 5 at 7 PM!
We hope you and your loved ones are continuing to stay safe and healthy. As we settle into this new way of living, we have been busy brainstorming ways to safely hold our annual benefit, Living in the City. Living in the City is our most important fundraiser and, especially this year, key to our ability to provide the families we serve with essential services and support.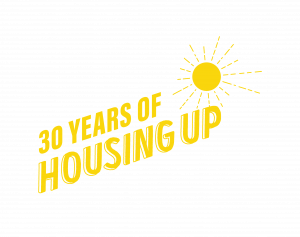 We're excited to announce that we will hold Living in the City 2020 virtually on October 5, 2020! While it's difficult to predict how life will look in the fall, after monitoring current CDC guidelines and projections, we are confident that a virtual event is the best way for us to celebrate with you safely.
Living in the City 2020 will be a celebration of Housing Up's thirty years: the amazing community that has supported our mission and the powerful transformations so many families have achieved.
We'll share more details on registration and sponsorship opportunities in the coming weeks. In the meantime, please save the date for October 5! While we wish we could be together in person, we are excited to share a virtual celebration with you this fall.
---