Katherinne Pineda-Espadero
Rapid Re-Housing Case Manager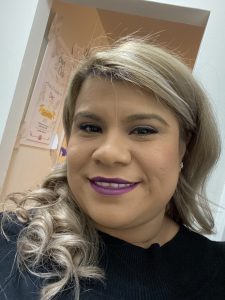 Where were you before Housing Up?
This year, I graduated from the University of the District of Columbia with a Bachelor's degree in Social Work. I was previously a caregiver for a 94 year-old woman, and I worked as a case manager at Neighbors' Consejo in DC. I also interned at Housing Up, and I've volunteered at Miriam's Kitchen, making meals for the homeless. 
What kind of impact are you hoping to have on the organization?
I believe that to help others, I have to be able to motivate them to better themselves. Through my experience in the field, I have seen the importance of encouraging others so they can feel good about themselves. 
Having a place that I can call home is priceless, and many families Housing Up serves may have never had a place to call home. Every human being should have the opportunity and the tools to experience having a house, a job and a family, but most importantly, to learn how to maintain all of that. Housing Up allows people to have a second chance. I am from El Salvador and come from a low-income family, so I understand what it's like to not have your basic needs met. I want to be able to help others to have another chance and a better life. 
What's something not everyone knows about you?
Espadero is the last name of my mom's family, and I am the last generation who has this last name (many people think this is my husband's last name). I am the spoiled middle child of 4 siblings. I am the first generation of immigrants in my family to complete higher education in the US. I married the love of my life last December. I am obsessed with the purple color and love to laugh. My favorite phrase from Helen Keller is "The best and most beautiful things in the world cannot be seen or even touched – they must be felt with the heart."
---