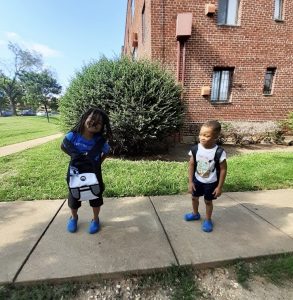 As we head into the 2020-2021 school year, we want to say thank you to our amazing supporters who ensured our students are prepared for distance learning due to COVID-19. This year's Back to School Drive was our most successful yet, at a time when preparing students for successful learning is more important, and more challenging, than ever. 
We kicked-off this year's Drive with the intention of bridging the digital divide for students in the families we serve. To make sure all students were prepared for virtual education this fall, we shifted the main item of our Drive from backpacks and traditional school supplies to high-quality, personal tablets for distance learning.
This year, our community raised more than $17,000, which allowed us to distribute 340 tablets and 352 backpacks with school supplies. Every student in our rapid re-housing and permanent supportive housing programs in need of these items received them, all thanks to you. 
Housing Up would like to sincerely thank the following contributors to the 2020 Back to School Drive. We know the pandemic has touched all of our lives, including the families we serve and the greater community. Your generosity, even in the most difficult and unprecedented times, allows us to continue our mission of building thriving communities in Washington, DC.
Alice Graham                                                  Gregory Koch
Alison and Chris Herrick                             The Fiori Family
All Souls Episcopal Church                        The Team at Debevoise & Plimpton LLP
Bethesda Church of the Redeemer          Jenna Sauber
Chris George                                                  John C. Weicking
Christ Lutheran Church                              Karen Kucik
Christy Grimsley                                           Katherine Beck
Danyaal Jafari                                               Michelle DeFayette
Fannie Mae                                                    Nicholas Behr
Stand Up for Kids
---