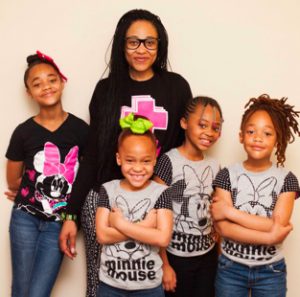 Today, Housing Up announced it will receive a one-time, $2.5 million investment from the Day 1 Families Fund. Launched in 2018 by Amazon founder and CEO Jeff Bezos, the Day 1 Families Fund issues annual leadership awards to organizations and civic groups doing compassionate, needle-moving work to provide shelter and hunger support to address the immediate needs of young families.
"As the families we serve approach another challenging year, this generosity from the Day 1 Families Fund comes at a pivotal time," Phil Hecht, Housing Up President & CEO, said. "Our goal is to build diverse, equitable and thriving communities in DC; this award allows us to take major steps to reaching that goal."
Housing Up is a Housing First organization, prioritizing housing as the first step to a family's independence. The Day 1 Families Fund grant will be used to expand our homeless services programs and to create additional units of affordable housing. This award will also strengthen important supportive services, allowing us to  innovatively meet the needs of families.
"I remember the first day I came to Fort View apartments, and I got those keys […] to give to my mother and my daughter," Housing Up resident Ms. Garcia said.
"It was like I was giving them the hope, I was able to give them a new dream to be able to have a safe place and to call a place home."
Housing Up is one of 42 nonprofits across the U.S. to receive the third annual Day 1 Families Fund grants, as part of a continuing commitment by the Day 1 Families Fund to help end homelessness for families. The Day 1 Families Fund issued a total of $105.9 million in grants this year. To select these organizations, the fund worked with an advisory board of homelessness advocates and leaders whose expertise spans housing justice, racial equity, direct services, homelessness policy, equity for Native American communities and anti-poverty work. This year, the grant recipients from around the country include DC-based organizations Friendship Place, House of Ruth and The National Center for Children and Families. For a complete list of grantees, click here.
The Bezos Day One Fund was launched in 2018 with a commitment of $2 billion and a focus on two areas: funding existing nonprofits that help homeless families, and creating a network of new, nonprofit tier-one preschools in low-income communities. The vision statement comes from the inspiring Mary's Place in Seattle: no child sleeps outside. For more information, visit www.BezosDayOneFund.org/Day1FamiliesFund.
---