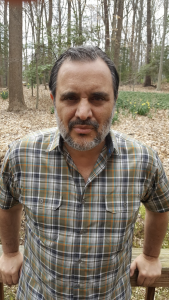 We are excited to welcome Lucho Vásquez as Housing Up's new Vice President of Programs.
Lucho comes to Housing Up with twenty-five years of experience working with nonprofit organizations and government agencies to end homelessness and to support those living with behavioral health challenges. He began his career in 1996, managing a transitional housing program at Samaritan Inns in Washington, DC. After several years at Samaritan Inns and gaining experience with local government agencies such as the DC Department of Behavioral Health (DC DBH) and the Montgomery County Department of Health and Human Services, Lucho embarked on a long tenure at Catholic Charities of the Archdiocese of Washington. At Catholic Charities, Lucho progressively grew his role and responsibilities, first working as a social worker and ultimately providing clinical direction and supervision to an array of homeless services programs. 
From 2008-2012 Lucho worked for DC DBH, establishing and leading a DC-wide mobile crisis services program that provided mental health interventions to adults experiencing psychiatric crises. He later returned to Catholic Charities to serve as the director of the organization's Homeless and Housing Services Department, which at the time served more than 10,000 people each year. Lucho served on the DC Interagency Council on Homelesness and has directed programs at the Substance Abuse and Mental Health Service Administration (a division of the US Department of Health and Human Services). 
Lucho earned his Bachelor of Arts degree from Catholic University of America and his Master of Social Work degree from Howard University. He is a Licensed Independent Clinical Social Worker in the District of Columbia and, among other awards, received the Alumni Achievement Award from the National Catholic School of Social Service of the Catholic University of America in 2015, and was named Washingtonian of the Year by Washingtonian Magazine in 2007.
Lucho brings his wealth of experience and a passion for improving the lives of our city's most vulnerable residents. We are thrilled to welcome Lucho to the Housing Up family!
---