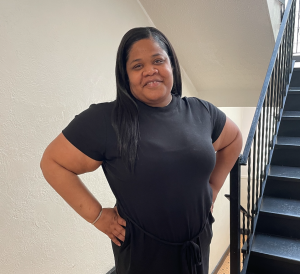 Since 1990, Housing Up has supported the District's most vulnerable families through a combination of affordable housing and support services. From serving 13 families three decades ago to now serving close to 900 households, your belief in our mission and our families has made our work possible.
Tanica Hunter joined Housing Up in 2008 and was a resident of Partner Arms 2 for just over two years before moving to our Fort View apartments in 2011. Since being connected with Housing Up, Ms. Hunter & her family's lives have changed in more ways than she can count.
"I'm proud [of myself] because I now see a better picture for my family," Ms. Hunter said. "A lot of doors have opened for me, and my kids are happy and satisfied."
Ms. Hunter is a mother of five, and because of safe and stable housing, she has been able to spend more time with her children, and she is comforted knowing that she can be there for her family.
"If I didn't have Housing Up or didn't have assistance with my rent, I may be living with somebody, or I would have to find another job," Ms. Hunter said. "It's allowed me to be more focused on my kids – I'm able to go up to the school and see what's going on with their studies, and my son is able to play basketball."
All of Ms. Hunter's children have participated in Housing Up's Resident Services activities, especially our tutoring program. Her children aren't the only Hunters who've enrolled in this program – Ms. Hunter has as well. In January 2018, she completed the National External Diploma Program (NEDP) with Academy of Hope & Housing Up volunteer tutors. The NEDP is a High School Diploma equivalent that uses experiential knowledge and flexibility to engage students. Completing the NEDP was Ms. Hunter's first step in achieving one of her professional goals: to graduate as a Registered Nurse and become a midwife.
"As a younger kid, my grandma used to have care aids," Ms Hunter said. "I wanted to help people, and I really wanted to help my grandmother. When I go into the [nursing] field, I want to help seniors first because sometimes, seniors are misunderstood; I believe that as long as our body is working and our heart is beating, we can all heal."
With Resident Services' assistance, Ms. Hunter completed her nursing school prerequisites at the University of the District of Columbia (UDC) and is waiting to hear if she's been accepted into UDC's Nursing Program. Ms. Hunter's educational advancement will allow her growth in the medical field where she has over 10 years of experience as a Certified Nursing Assistant (CNA).

---