As summer 2021 comes to a close, we're looking back on a joy-filled season of resident services programming for the nearly 900 families we serve. We've been serving our families virtually since last March and we're excited to connect in person once again. From community gardening with incredible new partners to a baseball clinic with the Washington Nationals, we're so grateful for the volunteers who help us carry out Housing Up's mission: to build thriving communities in Washington, DC.
Here's a recap of our spring & summer 2021 programming. Thank you for your amazing support!
Hearts of Empowerment (HOEP) is our community partner at Housing Up's Webster Gardens affordable housing community. Their group of dedicated and caring volunteers join us monthly for programming, establishing solid relationships with the children & families we serve. So far, HOEP has helped us restart Webster's garden, host a Parent Appreciation Night (with a make-your-own pizza component!), and celebrate the Fourth of July with a cookout and kids' activities.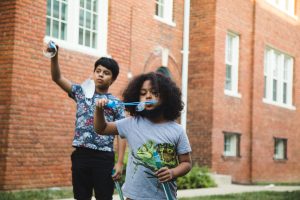 Christ Lutheran Church (CLC) has been a Housing Up partner since its founding in 1990, when a group of church and community volunteers decided to use a generous bequest to help families attain safe and stable housing. Housing Up has grown from serving 14 families to nearly 900, and CLC has been with us every step of the way. CLC has been providing families at our three Partner Arms buildings with pantry bags filled with food & household essentials – critical needs, still, for families as we rebound from the pandemic.  In July, church volunteers hosted a fun ice cream social at Partner Arms 1 and distributed generous care packages to families. 
Development Agency International
We're so grateful to have been connected with Development Agency International (DAI) through a long-time Housing Up volunteer! This spring and summer, DAI has been an engaging educational partner where they've hosted a Virtual Fun Friday with Jeopardy!, an Asian Heritage Month lesson with origami, and a geography lesson.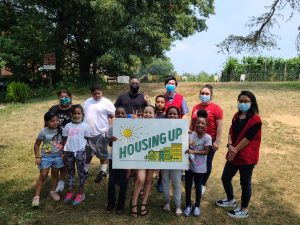 New volunteers from Target stopped by Housing Up's summer camp in July, playing with and establishing connections with the kids in our programs. We played kickball and had a blast. Thanks for spending time with us, and we can't wait to see everyone again soon!
St. Columba's Episcopal Church
St. Columba's is also a longtime Housing Up partner, always willing and eager to meet the needs of the families we serve. The church and its dedicated group of volunteers are the community partner at our Fort View affordable housing community. Recently, they hosted a tutor-student cookout (the first time our virtual tutoring pairs met in-person!), they tended to Fort View's community garden, and they assembled & donated backpacks full of school supplies for all the high school students we serve.
This spring and summer, Stand Up for Kids has shown up for the families we serve at Partner Arms 3 in incredible ways. Volunteers held a pizza party for our families, taught a class about house plants, and gifted sports equipment to the kids we serve. In July, they listened to our residents' needs and interests and put together a financial workshop for parents.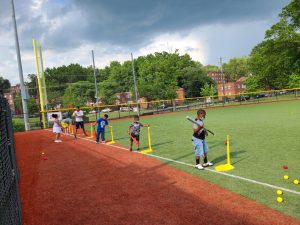 Washington Nationals Youth Baseball Academy
We've had so much fun with the Washington Nationals Youth Baseball Academy over the past few years, and this spring and summer has included some highlights. Earlier this summer, the Academy held a private baseball clinic for the children at our Webster Gardens and Partner Arms 3 communities, and they hosted a game of BINGO Baseball.
LA.IDEA (Latin American Interior Designers, Engineers, and Architects)
This year, we've wanted to find new ways to engage the Latinx families in our programs and LA.IDEA has been a great community partner to do so. This spring, they held a family craft night in Spanish which brought together volunteers & many of our Spanish-first families.
Howard 1867 Student Organization
It's been great connecting with local college students at Howard University, and so many of these volunteers regularly participate in our resident services programs. Howard 1867 Student Organization has organized and hosted virtual "Fun Fridays" this year, where the kids we serve play games together and connect with familiar faces.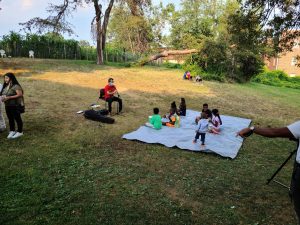 Hola Cultura has also helped us make more connections with the Spanish-first families we serve. This spring, they hosted a family story night in Spanish and brought in a children's music performer. We had a great night on the lawn at our Fort View community, and we're so thankful to be able to work with great partners like you.
---