Debbie Fox
Senior Housing Policy & Practice Specialist, National Network to End Domestic Violence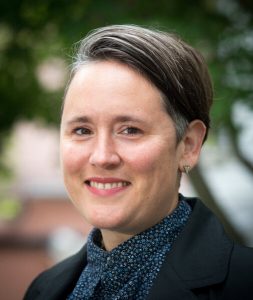 Q: It's great to meet you, Debbie. Can you share a bit about your professional background and what drew you to the domestic violence prevention and housing justice movements?
I was drawn to the feminist and housing justice movements in my youth. I was heavily involved with the early 90s punk rock music scene and there was an intersection with feminist activism, squatters' rights, and shared affordable communal feminist and punk housing, which I often lived in. I began my professional work in the domestic and sexual violence field around that time at a local program in the small college town in Indiana where I lived. As a young queer person, I experienced housing insecurity and did not have a financial family safety net. I was working low-paying nonprofit jobs, living paycheck to paycheck and having a hard time making ends meet. I relied on living in shared group houses and even lived in a HUD-funded supportive housing program for people with experiences of homelessness and domestic violence. All of these firsthand personal experiences drew me to the intersection of housing and feminism. 
Q: In your mind, what are the intersections between domestic violence prevention, housing justice, and economic justice, and why is it important for providers to take a multi-faceted approach?
Housing impacts us all, and those with limited incomes even more so. I believe that housing is a human right, it should be safe and affordable, and people should not be criminalized or punished for living outside.  Domestic and sexual violence is a leading cause of homelessness. In our country, families, LGBTQI+ folks, and women, especially women of color, are discriminated against when accessing housing. Once housed, they also experience high rates of policing with nuisance ordinances and high rates of eviction.
During the pandemic, all of these issues have been exacerbated and we have seen economic, health, housing, and interpersonal violence inequities increase.
Systemic factors create further challenges for survivors since many of our housing and homelessness systems overlook the racial and gendered impacts that survivors face when reaching out for help. We have to take a multi-faceted approach to addressing interpersonal violence including: designing and implementing trauma-informed housing and homelessness responses that understand the needs of survivors and the dangers they face, and create & enforce legal housing protections for survivors.
Q: With more people getting vaccinated and the possibility of children being able to attend school in-person again, some have drawn the conclusion that the pandemic is nearing the end. What do you think of this assumption, and what challenges do you and NNEDV anticipate for vulnerable populations this year and beyond?
We are still in the midst of the pandemic and are working for longer-term housing solutions with increased federal, state and local resources. Our biggest concerns right now are working with our member state and territorial domestic violence coalitions to ensure survivors have access to much needed resources and protections. New and existing resources such as the Emergency Rental Assistance Program and Emergency Housing Vouchers should be easily (and confidentially) accessible to survivors. Additionally, we are working to ensure Violence Against Women Act (VAWA) housing protections are enforced and are supporting  communities working to prevent survivors from eviction as the moratorium ends. We continue to hear from our membership about the bureaucratic and political challenges they, and in turn, survivors face when accessing resources. It is a gender and racial equity issue we are continually centering and working to address.
Q: Earlier this year, the House of Representatives voted to reauthorize the Violence Against Women Act (VAWA). During the pandemic, we saw a steep increase in the amount of domestic violence reports among the women we serve. Why is it important that this also passes in the Senate, and what is left to be done?
It is critical that we pass VAWA this year as our nation is in the midst of multiple, intersecting crises that exacerbate disparities and endanger survivors of domestic violence.
We must invest in national strategies that advance access to safety, justice, and economic stability for survivors while we work to reform the systems that are not helping all survivors. Policies and related resources must respond to the specific needs of historically marginalized survivors, especially survivors of color.
This VAWA takes an expansive and holistic approach to address the complex realities of survivors' lives. The VAWA housing protections ensure that survivors in public and assisted housing can maintain their housing, access an emergency transfer to find safer housing, and/or end their lease early to escape violence. Congress should amend VAWA's housing provisions to 1) respond to the housing needs of sexual assault survivors; 2) strengthen the emergency transfer process; 3) strengthen protections for survivors of domestic violence from eviction due to any criminal actions of perpetrators; 4) allow victims to independently establish eligibility for housing assistance when leaving the household of an eligible perpetrator; 5) strengthen compliance, implementation and training across agencies and providers; and 6) protect the right to report crime and support effective law enforcement. In addition to VAWA's housing protections, the reauthorization should increase funding for the highly effective VAWA transitional housing program, a trauma-informed, survivor-centered housing model that helps survivors find safety and permanent housing.
---