Jeff Moore
Housing Up Volunteer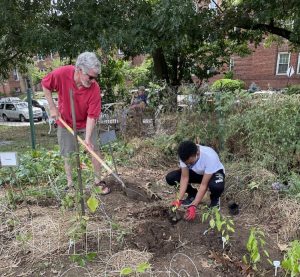 Hi, Jeff. Thanks for chatting with us for National Volunteer Month! To start, can you tell us a bit about yourself?
The basic details are: I'm an old American white guy — gray hair, 6' tall (and shrinking), about 175# — rapidly approaching the end of my 74th trip around the sun. I was born and raised in Minneapolis MN, but DC has been my home for decades. I am married to a wonderful woman and have been for a gazillion years. I have 4 children, 4 superb children-in-law, and don't get me started about my 4 grandchildren. I have a dog, a Prius, and a PhD in social psychology. I like to be physically active, which the main recreational outlet for is biking. In my working days (10+ years in the rear view mirror now) I was a Research Psychologist for the US Census Bureau, working to improve data quality by evaluating and improving the questions asked of people. Good fortune has smiled on me all my life. You know how they say of some people that they were born with a couple of strikes against them? Well, I was born on second base. Maybe even third. 
Why did you decide to get involved with Housing Up?
I knew that St Columba's had partnered with Housing Up as the major component of its initiative to work toward eliminating family homelessness, which I thought was an excellent idea. My wife urged me to not just stand on the sidelines applauding the idea, but to do something about it.
What are your volunteer responsibilities at Housing Up? What is your favorite part?
I participate (via Zoom) in the weekly drop-in tutoring program. Its main goal is helping kids with their homework, but it's often just a hang-out session, which I try (with limited success) to make it at least a little educational. My other volunteer activity is assisting with a garden project. There's a community garden right across the street from the Fort View community, and the kids have a plot there. Last year we had a great time planting and harvesting a chaotic array of standard garden stuff — tomatoes, peppers, eggplant, watermelon, etc. — and the plan is to do the same this year, perhaps with a little less chaos. We'll see. My "favorite part"? No contest — meeting and getting to know and having fun with the kids.
Tell us about some of the people you've met while volunteering at Housing Up.
Since my volunteer activities have been exclusively kid-focused, I've met very few adults at Fort View. The kids have been great — smart and energetic and upbeat and a joy to spend time with. I have also thoroughly enjoyed my interactions with Housing Up staff, and with the other gardening volunteers. 
What would you tell someone who is considering joining Housing Up as a volunteer?
How much fun it is!
---