Jacob Strom
PSH Lead Case Manager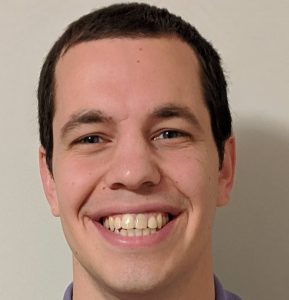 Can you tell us a bit about yourself?
I grew up in Montgomery County, Maryland, and I have lived my entire life in the DC area. I graduated from Bethesda-Chevy Chase High School in 2012 and the University of Maryland, College Park in 2016 with a BA in Psychology. I have a strong connection to this area, and I see myself living here long-term.
I view myself as a people-person who enjoys connecting with others. I love conversation, and I am always interested in understanding different perspectives. I think that this quality helps me as a case manager because it allows me to center my client's perspectives without letting my own assumptions get in the way.
Where were you before Housing Up?
After graduating from Maryland, I started working at a local nonprofit where I helped establish programming in a DC community. I enjoyed serving the community and saw the need for high quality services; my passion for social services began to grow. The aspect of the work that was most rewarding was working with and forming relationships with community members. As a result, I joined Housing Up as a Permanent Supportive Housing Case Manager in 2020 so that I could help families work towards their goals by forming meaningful partnerships with them. Part of what I love about my job is that my families are permanently housed. The stability of permanent housing helps my families focus on their goals and gives me the time to develop genuine, trusting relationships with them so that I can be of assistance.
Overall, I believe that the goal of social services should be to provide all members of society with the support and tools that they need to live stable and fulfilling lives. I view my work as a case manager for Housing Up as part of a collective effort to work towards making homelessness rare, brief, and non-recurring in the District.
What kind of impact are you hoping to have on the organization?
I am a firm believer that organizations that have trust and camaraderie amongst their staff are best able to serve their community. Housing Up already does a tremendous job of creating a supportive environment where staff feedback is valued, and work-life boundaries are honored. I hope to do my part to contribute to this positive culture. I try to do this by participating in organizational and departmental team building committees. I also do my best to form positive working relationships with my colleagues.
What's something not everyone knows about you?
In my free time, I enjoy doing anything related to sports and music. I love playing basketball with my friends, and I am a big fan of the Commanders, Wizards, Terps, and Orioles. On the music side, I take singing lessons and write and record songs in my bedroom recording studio. I also enjoy going to concerts and plan to start performing my own songs for the first time this year.
---