Living in the City 2022 is right around the corner! On Thursday, October 6 at 7 PM, we'll be virtually celebrating the Housing Up community & the families we serve. If you're not yet convinced you should join us for our largest – and most important – fundraiser of the year, here are 5 reasons why you should:
Hear from our resilient and courageous families
We'll spotlight a Housing Up client, Ms. Holmes, who has overcome significant challenges in order to provide a secure and joyous life for herself & her family. You'll hear firsthand how the combination of safe, affordable housing and supportive services has the power to change lives. Join us on October 6 to listen to Ms. Holmes share her story.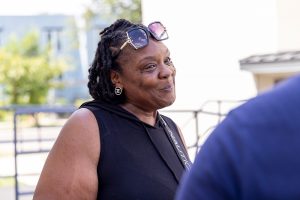 Get a glimpse inside the partnerships that help Housing Up thrive
Since its founding in 1990, Housing Up has grown from serving 14 families in a building on the corner of Georgia Avenue and Kennedy Street NW to now serving more than 900 families across the District. At Living in the City, we'll share how we've been able to grow thanks to community partners like  Hearts of Empowerment. You'll gain an understanding of the work left to be done & how you can help.
Learn what "community" means to us
Every person deserves a safe and affordable place to live and a thriving community, yet the rate of homelessness in the District is the highest in the country. Housing Up staff, volunteers and board members shared what "community" means to them, giving us an understanding of why they continue to show up in this fight.
Help end family homelessness in Washington, DC
Housing Up's vision is to end family homelessness by providing affordable housing and comprehensive support services to homeless and at-risk families. The proceeds from all Living in the City sponsorships and the virtual auction directly benefit our programs, allowing us to better serve hundreds of vulnerable families, especially during this difficult time.
Make a tangible impact
Our virtual auction is a great way to directly help the families we serve. You'll have the opportunity to cover household bills and essential items for families impacted by COVID-19, support resident services activities, and help our students reach their educational goals, this year and beyond.
We can't wait to see you for an evening of hope & inspiration on Thursday, October 6!
---